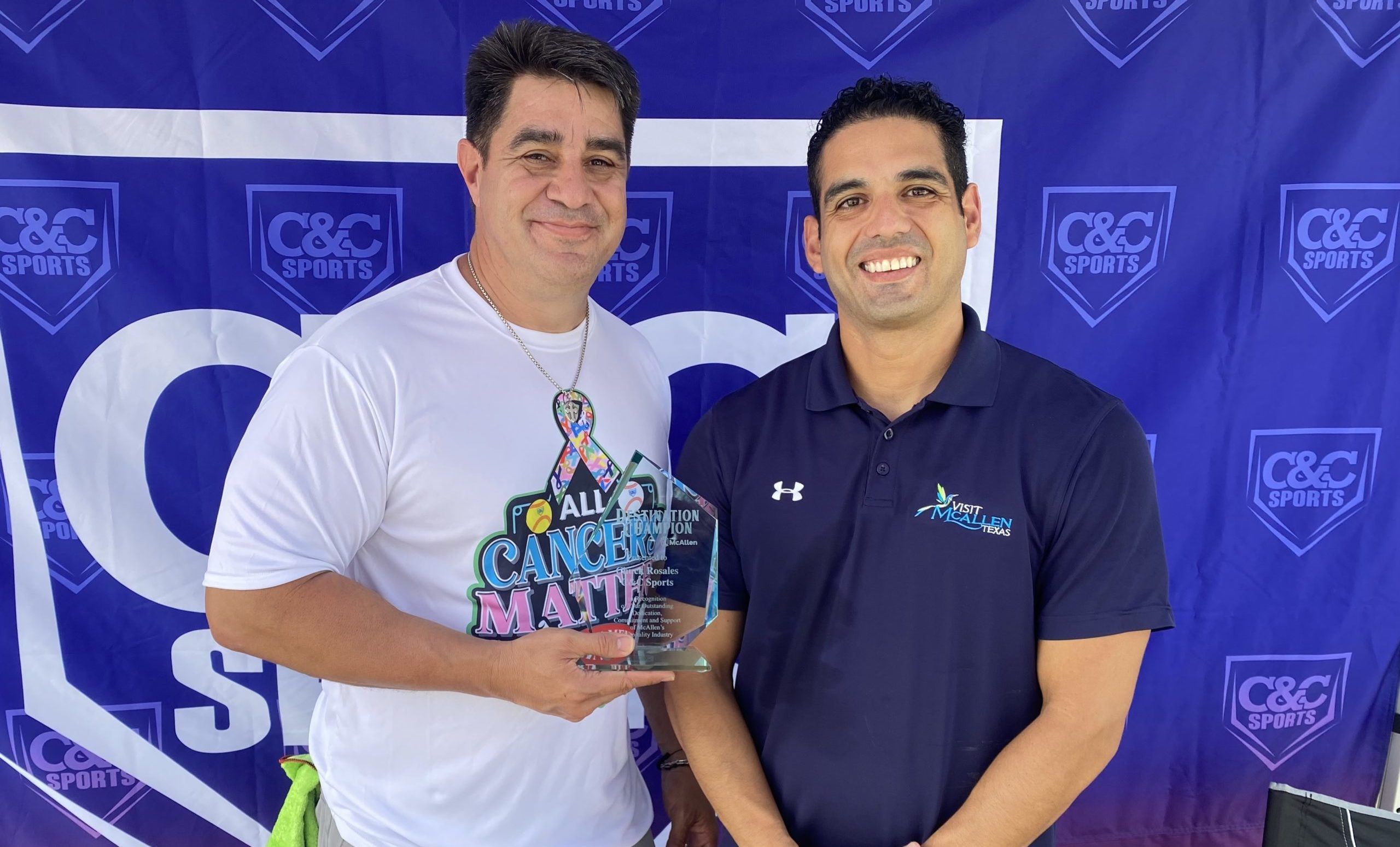 05 Oct

Visit McAllen Honors 2021 Destination Champion

Visit McAllen, a department of the McAllen Chamber of Commerce, named Chuck Rosales of C&C Sports its 2021 Destination Champion recipient in recognition of his outstanding dedication, commitment, and support of McAllen's hospitality industry.

"We've been working with Chuck for nearly 10 years, growing McAllen's reputation as a premier baseball and softball destination, and each year his organization has increased visiting team attendance by hosting high quality tournaments with integrity," said Robert Lopez, vice president of Visit McAllen.

Visit McAllen's Destination Champion program identifies individuals and organizations who are active in their industry associations, fraternal, religious, social or sports groups who work to bring meetings and conventions to McAllen.

"Coming out of the pandemic, we anticipated youth sports events to be the first group business to return, and Chuck has contributed to our hospitality industry in its most crucial times. I can't think of a more deserving person, and we are grateful for his commitment," added Lopez

C&C Sports hosted 7 tournaments during FY 20-21, including 4 softball and 3 baseball events. The tournaments combined to generate 1,550 hotel room nights with an estimated economic impact of $1,739,500.

"This is an unbelievable and unexpected award. It is important to note that I am not alone in this.  I would like to recognize and give thanks to my staff who make hosting these events a lot easier. They are a special group," said Rosales of C&C Sports.

"I organize these events purely for the love of the game and to help our local youth develop with the goal of obtaining a baseball or softball scholarship. I would like to thank the City of McAllen Parks and Rec Department and Visit McAllen for their support and for sharing the same vision for youth sports. McAllen invested in the Youth Baseball Complex and Municipal Softball Complex which have been a key factor in organizing our events.  The fields are well-maintained and have all the amenities visiting teams look for when traveling compete," added Rosales.

Sports tourism is McAllen's fastest growing tourism segment, generating more than $3 million annually for the city's economy. The sports tourism traveler spends approximately $209 per athlete per day, traveling with teams and families.

If you are a member of an industry association and want to be part of the economic recovery of the region, contact Visit McAllen about hosting your next meeting.