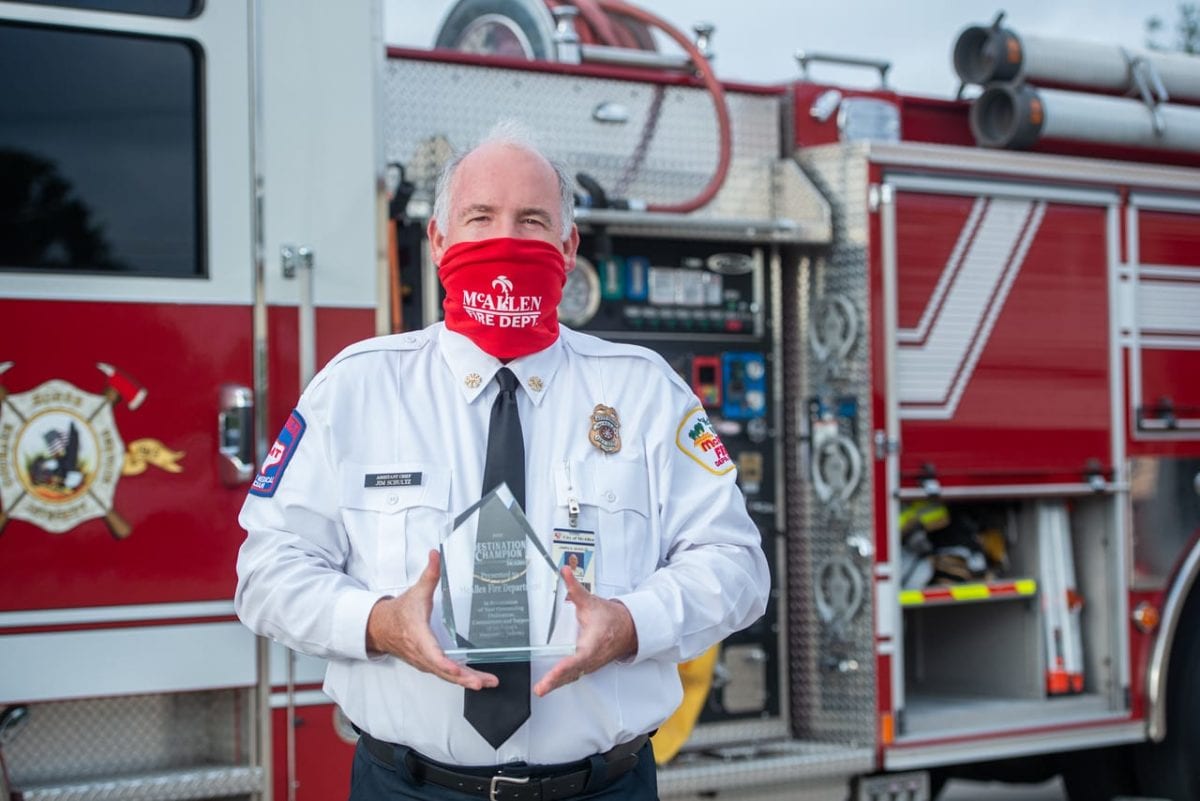 02 Sep

McAllen Fire Department Named 2020 Destination Champions

Visit McAllen, a department of the McAllen Chamber of Commerce, awarded the McAllen Fire Department its 2020 Destination Champion recipient in recognition of its outstanding dedication, commitment and support of McAllen's hospitality industry.

Visit McAllen's Destination Champion program identifies individuals and organizations who are active in their industry associations, fraternal, religious, social or sports groups who work to bring meetings and conventions to McAllen.

The McAllen Fire Department is active in state, national and international associations and has leveraged its reputation and relationships to attract conferences, meetings and training events to the city.

"Hosting conferences is a tremendous responsibility, and the McAllen Fire Department has never turned down the opportunity to bring a convention to McAllen," said Robert Lopez, vice president of Visit McAllen.

Since 2013, the Fire Department has hosted 8 events generating 2,170 hotel room nights with an estimated economic impact of $1,130,500 and plans to host the 2021 State Firemen & Fire Marshals Association State Convention are underway.

"The McAllen Fire Department is deeply honored to receive the 2020 Destination Champion award from the McAllen Chamber of Commerce.  We have members of our Department that serve in various capacities of the fire service at the local, state, national and even international level.  We are always striving to showcase McAllen to the members of those various organizations and invite them here to experience our great way of life for themselves.  The McAllen Chamber of Commerce plays a crucial role in successfully bidding on conventions, meetings and training events.  We couldn't do it without them," said Interim Fire Chief James Schultz.

In 2019, Visit McAllen's Destination Champion program accounted for 20 events with 6,930 room nights and an estimated economic impact of $9,708,300 for local businesses with convention visitors spending an average of $175 per person per day.

"Now, more than ever, our local leaders play a crucial role as we look to rebuild our convention and meeting business, and we are proud to honor Chief Schultz and his team for being part of our economic recovery."

If you are a member of an industry association and want to be part of the economic recovery of the region, contact Visit McAllen about hosting your next meeting.

For more information, please email meetings@visitmcallen.com or call 956-682-2871.