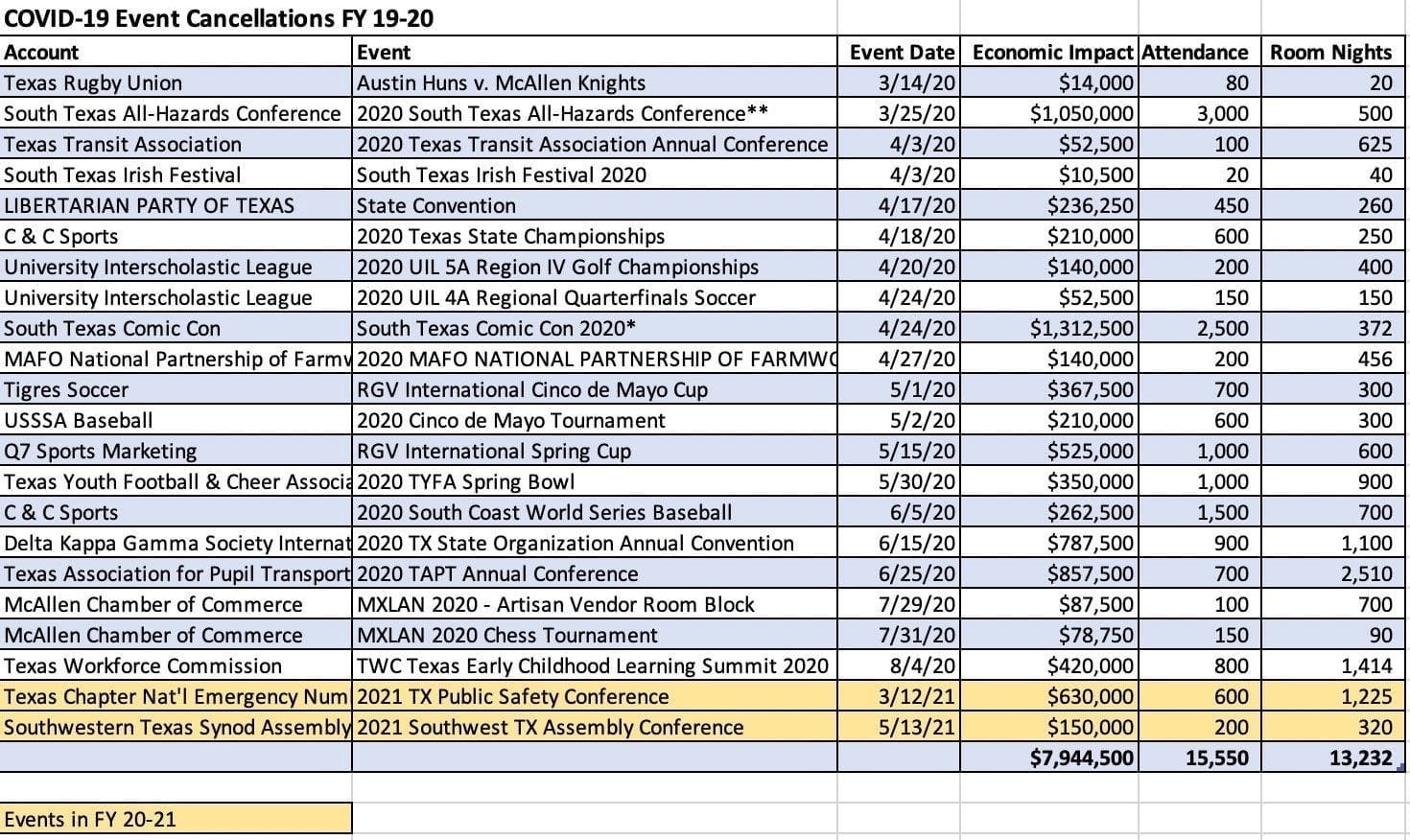 14 May Visit McAllen Update
The March 2020 STR Monthly Destination Report for McAllen shows a decrease in hotel occupancy of 35.3% with occupancy at 45.3% for the month versus 70% in 2019.
The virus had less impact on Average Daily Rate (ADR) with a decrease of 1.5%. Average daily rate March 2020 was 81.96 compared to the same month last year at 83.19.
RevPAR (Revenue per available room) dropped 36.3% from 58.26 last March to 37.12 this year.
McAllen hotels had a 36.3% decrease in revenues in March, reporting $4,519,131. This figure is down from $7,092,009 from the same time last year.
The next STR Report with April statistics is expected May 17, 2020.
So far, there have been 22 group cancellations due to COVID-19 for a total of 13,232 room nights and an estimated economic impact of $7,944,500. Above is a list of group cancellations due to COVID-19.
During this time, the sales team has done a full IDSS database cleanse, updating our association and sports lists with current addresses and primary contacts and emails. This is phase one of the sales strategy and overall recovery plan. Next steps include updating our meeting planner guide and other sales collateral.
Marketing has shifted its focus to help support local businesses and to increase local awareness for the programs available to the community. The "Make the Most of McAllen" campaign has been well received, and a second video was produced and rolled out. Plans for the next phase are underway.
Mexico Leisure tourism marketing has been reduced to only digital/social media. The message has been adjusted to reflect the current situation and plans for recovery campaign are tentatively scheduled for mid-July to capture the Back-to-School season.
We are all adjusting to the situation as things develop, but please know the Visit McAllen team is here to serve and support out hotel partners in any way possible. Whether you need reports and information, or if you want to offer feedback or just need someone to talk to, please don't hesitate to reach out to us, we are at your service.
Robert Lopez
Vice President
Visit McAllen